Ever wondered why there's a lot of Sale, discounts and offers every August? That's also my question actually. Hahaha!
For some, August is a ghost month as they shy away from business deals and other activities that might affect their luck. There are some saying because it's Lean season and here in the Philippines it's also the rainy season that is why there's a lot of sale, discounts and money-saving opportunity. And we have 3 holidays this month. Yay for Holidays!
There are plenty of great deals this month, so I decided to sum-up some of the brands and restaurants that I personally love and my current favorites. I will call it my SHESCAFinds. So let's start…
Whole Month Deals:
Rainy Day Merienda to keep you warm during the rainy season. Avail the Buy 1 Take 1 on Ube Champorado for Php 195.00. I super love their champorado! And enjoy the Filipino favorite, Arroz Caldo for Php 220.00 from 3:00 PM to 5:00 PM daily for the whole month of August to September 2019 in Friends & Family PH. Located in 7th Avenue and 30th St., Bonifacio Global City.
Kids Eat For FREE – For a minimum of Php 1,000.00 spend receipt, get a FREE Kids Set Voucher to be used on your next visit in Saboten, Serendra, BGC; Providore PH in SM Aura and Motto Motto PH in Serendra, BGC.
TWO PIZZA TREATS in Pomodoro. Get 2 of your favorite Pomodoro Pizza flavors for only Php 349.00. Available for the whole month of August until 5:00 PM everyday in all Pomodoro branches (Kapitolyo, Ayala Cloverleaf and Valenzuela). Valid for dine-in and take out only.
KIDSPORTS MID-YEAR SALE ALERT. If you are looking for quality shoes for your kids. This is the best time to catch great deals from Kidsports. Promo is valid until August 30, 3019. Check their Facebook page for the Store location: https://www.facebook.com/KidsportsPhilippines. And for hassle-free transactions, you may check them online: https://kidsports.ph/?rfsn=2917561.01a044
And another reason to celebrate is the Storewide Sale only on August 21, 2019. As they are having their 15th Anniversary. All regular priced items on a 20% OFF. See you on the 21st of August.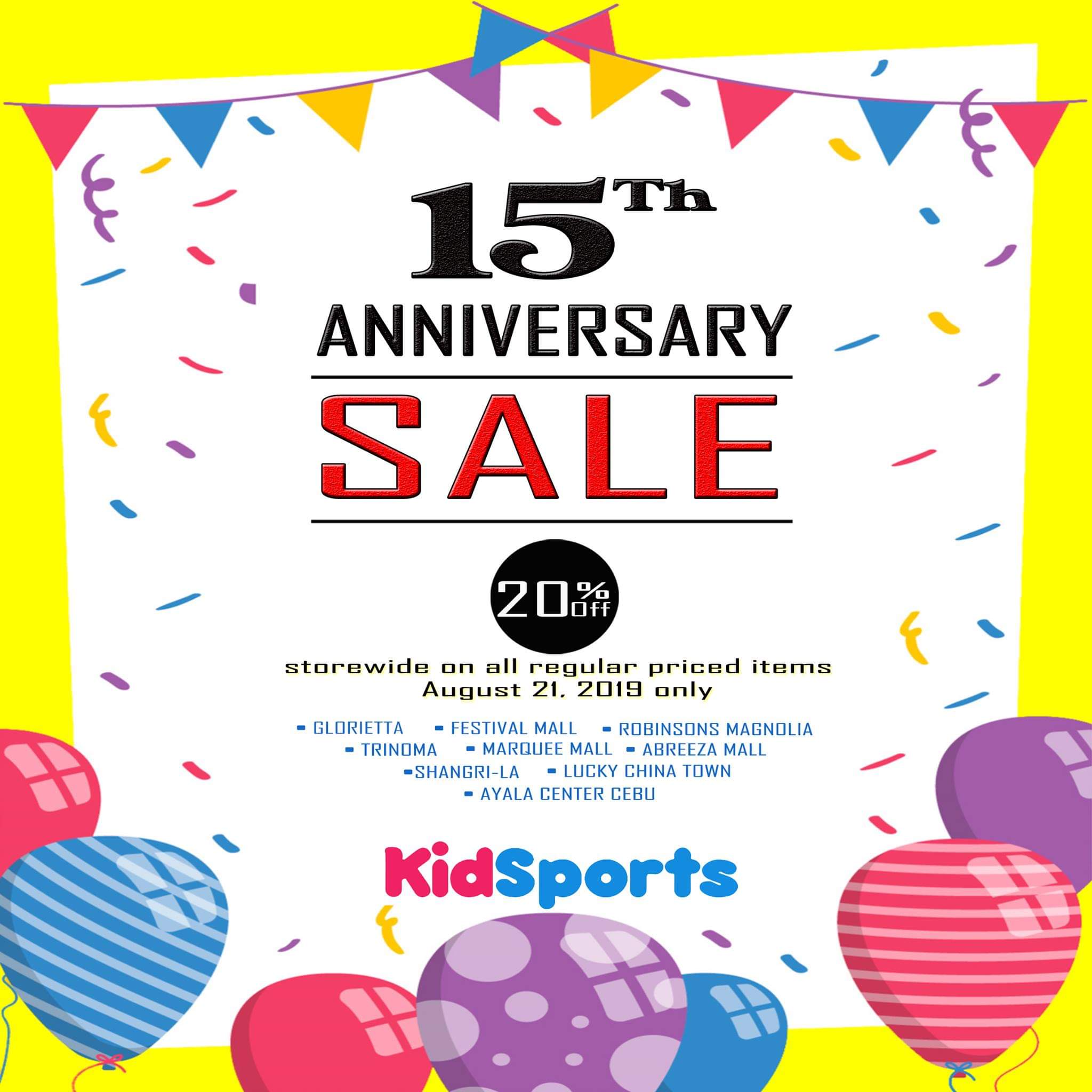 Monday Madness:
Are you a big fan of Arroz Caldo and Champorado? I am glad that Providore PH brought back their Buy 1 Take 1 on Ube Champorado for Php 195.00. And now you can enjoy the Filipino favorite, Arroz Caldo for Php 225.00 from 2:00 PM to 5:00 PM every Monday for the whole month of August to September 2019. Located in Ground Floor, SM Aura, BGC.
Tuesday Treat:
Have you heard the PRETZEL HAPPY HOUR of Auntie Anne's? Make your TUESDAYS happier with Auntie Anne's Pretzel Happy Hour. Buy 1 Pretzel and get 1 Pretzel of the same variant for FREE. Visit any Auntie Anne's branch nationwide every Tuesday of August from 1:00 PM to 6:00 PM.
August 13, 2019 – It's Robinsons Rewards VIP Day. I am an avid user of Robinsons Rewards card. So Auntie right? Hahaha! You can score exclusive deals and rewards from different stores and brands like Robinsons Department Store, Supermarket, Handyman, True Value, Appliances, Toys "R" Us, Benefit, Costa Coffee, Daiso Japan, Arcova and Caltex. You can enjoy exclusive member discounts of up to 50% off and Extra points.
Wednesday Grind:
Starbucks is bringing back Php 100.00 Grande Drinks every Wednesday. For August 14 – Iced Black & White Mocha. August 21 – Mango Caramel Cream Frappuccino. August 28 – Dark Mocha Crumble Frappuccino. For the complete list of drinks and dates, visit bit.ly/sbgrande2019
August 14, 2019 – For the first 30 guests who will order their bestseller PRIDE of PRAWNSTAR they will get 50% Off. Located in Level 5, Ayala Malls Feliz, Pasig City.
August 14, 2019 – Lazada Philippines is celebrating its second Women's Festival, a one-day sale every empowered Filipina will be excited to be part of. Lazada's Women's Festival is geared towards empowering women to be confident in their own style and to explore even more choices within arms' reach. As the leading online shopping destination forwomen, Lazada provides women what they need from beauty and fashion, technology and mom andbaby categories. With great responsibility as the industry leader comes great (girl) power, and Lazada is definitely ruling and owning it. "It is a transformative era we live in now, onli
ne and offline, where women empowerment is in the airand at every corner, we see women beautifully and fearlessly owning who they are. Lazada continuously advocates the importance of the role of women regardless of the industry they represent. With new deals come new faces like Saab Magalona, Camille Co, Vern and Verniece; four individualswho embody and celebrate the platform's inclusive and diverse platform. The Top 10 Deals to Look for at the Lazada's Women's FestivalEnjoy discounts of up to 70% all throughout the day, thousands of vouchers up for grabs from over 800 brands, and 300,000 items on Flash Sale and Piso Deals! Don't forget to set your alarms at 12midnight as the biggest discounts come your way from 12mn-2am and 12pm-2pm. Unearth all theseand more as Lazada encourages women and avid shoppers to not only seize opportunities, but tocelebrate every moment to #OwnTheNewYou. Beyond the exciting steals during the one-day-only sale event, Lazada is offering a range of deals forthe needs of every kind of empowered Filipina, may it be the Career Woman, the Young Mom or theYuppie.
Thirsty Thursday:
Happy Hour All Day in Chotto Matte. You can score Buy One Take One on selected SIGNATURE COCKTAILS, HIGHBALLS, HEINEKEN DRAFT BEER and WINE every Thursday and Saturday. Located in Netpark Center, 5th Avenue corner 28th, BGC.
Payday Weekend:
Every Payday, enjoy a variety of dishes from around the world as Terraz Bistro & Meetings bring you a delicious feast you rightfully deserve on August 15 and 30, 2019. It's Payday buffet for Lunch and Dinner for Php 695.00 per person inclusive of a glass of Iced Tea. And dine with them during Dinner and enjoy 5+1 Promo. Located in 3rd Floor Zuellig Bldg., Makati City.
Weekend Shabu-shabu for Php 595.00 every Saturdays and Sundays in Izakaya Sensu. All You Can Eat includes pork belly, salted ginger-flavored broth, tofu, glass noodles, enoki mushrooms & vegetables and served with 2 dipping sauces. Located in Ground Floor Net Park Bldg., 5th Avenue Fort BGC, Taguig.
August 16 to 18, 2019 – 3 DAYS SALE ALERT in SM East Ortigas. Score up to 50% OFF on selected items. Get rebates when you use your BDO card. Extra 10% discount for Prestige and BDO Diamond cardholders on Prestige Friday. Extra 10% discount for SMAC and Prestige cardholders SMAC Saturday until 12NN. And Extra 10% discount for SMAC and Prestige cardholders Sunday Special from 5:00 PM to 7:00 PM. Located in SM City East Ortigas, Ortigas Avenue Extension, Pasig City.
You may message me or comment on my blog if there are any other promos and deals that I missed. But again the brands or restaurants that I mentioned here are mostly my favorites. I just want to share my SHESCAFinds (good deals, dsicounts and offers). And what will help other Mommies like me to save more. And you are Welcome! 😊😘
MomSHE paproved! 👍