26 top-notch HR Leaders and Speakers shared powerful and comprehensive industry wisdom. And answered some questions about this year's theme "Responsive HR: Challenges and Opportunities" at the 12th Philippine HR Summit last August 8 to 9, 2019.

Since it's my first time to attend the Philippine HR Summit here are my expectations before I attended the 2-day HR Summit:
They will discuss and cite some examples of what are the Top Challenges and Opportunities that HR or Company are facing right now.
They will update us on the latest trends in HR.
New Laws, Rules, and Policies in all facets of HR: Labor relations, Talent Acquisition, Rewards, and Talent Development.
How to manage Millenials in the workplace?
How HR will transform from being Contemporary HR to Innovative HR.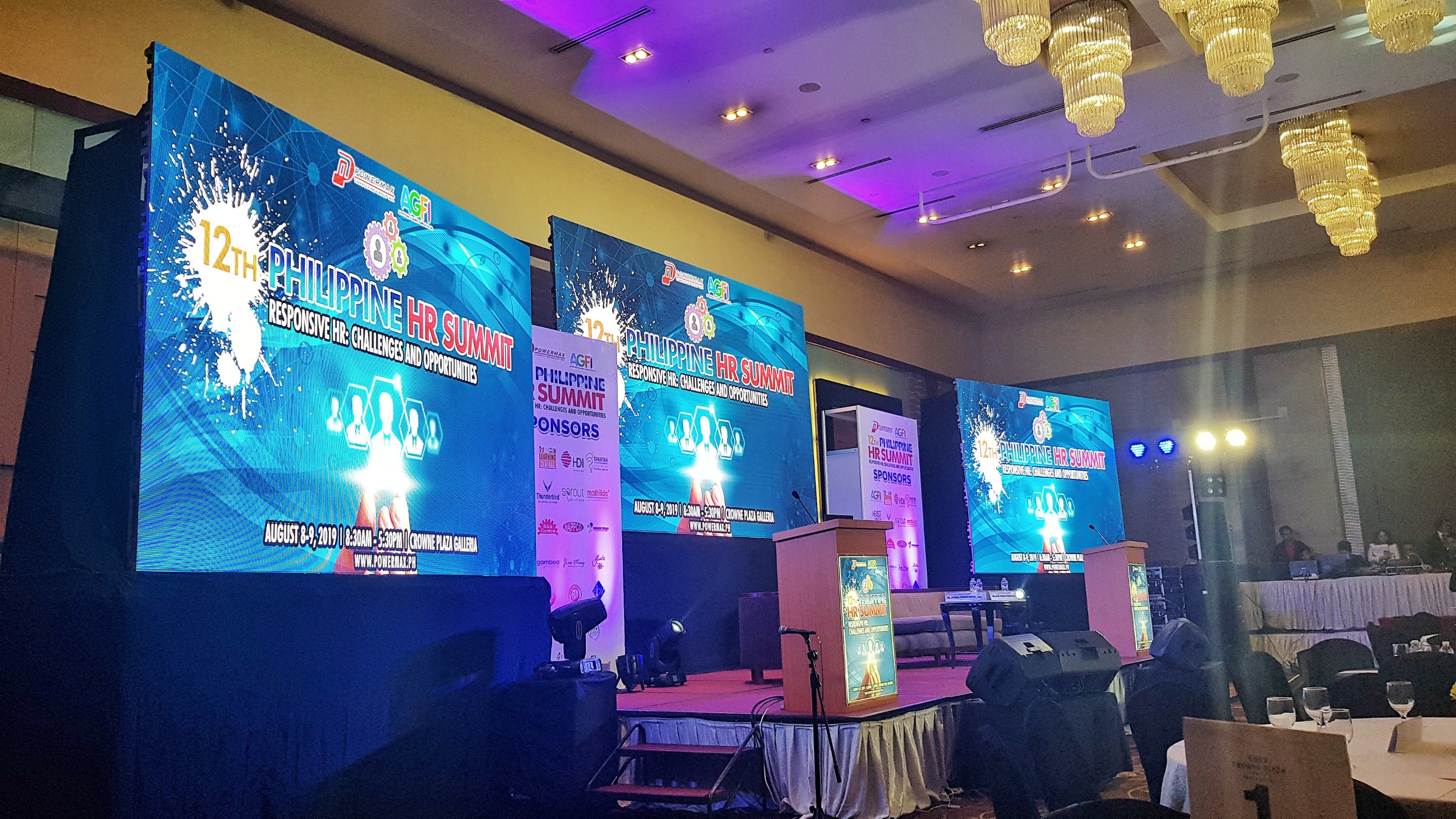 Day 1 – August 8, 2019They started the program at 8:30 AM with the Invocation, National Anthem and Welcome Remarks from Mr. Rene Espinosa, President of Powermax Consulting Group, Inc. At 9:00 AM, they started it with Keynote Panel facilitated by Mr. Barbie Atienza with 3 Panel Speakers: Ms. Michelle Cordero-Garcia, Vice-President of People (Asia) – Task Us. Discussed Impact to Organizations in Changing Business Models. According to her, we need to consider our PEOPLE. Work that is driven with purpose & passion. Work that enriches NOT only Human Resources but also the HUMAN SPIRIT.

Dr. Rosalina O. Fuentes, President of SAIDI Foundation. Discussed the inevitable change. We need to innovate with the speedy environment. And the used of VUCA Environment – to describe or reflect on the Votality (rate of change), Uncertainty (Unclear about the present), Complexity (Multiple key decision factors) and Ambiguity (Lack of clarity about the meaning of the event).
Mr. Jesse Francis Rebustillo, 2016 President of People Management Association of the Philippines (PMAP). Companies must have an Organizational review. Change and transform. But should be clear to all. And she added Digital in VUCA. HR should change their functions from Recruitment to Talent Acquisition, Compensation & Benefits to Total Rewards and Training to Talent and Development. He added we need to be global but to be Local. The intelligent HR Understand. Do away transactional HR. The main core of HR: Passion, and purpose.
How do we manage change to happen? Start to self. HR becomes the soul of an organization, were you put meaning.
Keep focus. Convince the company that you are the soul of the company. With good credibility, influencing them on different aspects.
Not technically but with "malasakit". They feel if they are taking good care by the Employer.
Drives retention. People that are motivated.
Considered the 3 Ps: People, Process and Performance.
Authentic leader, humble and competent. Somebody who really cares.
If with a problematic employee use the Learning curve. Rotation. Intervention.
Being transformational. It will start with you. You need to be in the right position. You need to be credible.
Go beyond and go outside the box. People are the center.
Get out because there's no more box.
Enhance your creativity. Graduate to EQ.
Responsive Workforce Planning – Grace Abella-Zata, President IRC Philippines. Identify your Talents. With Levels. History of voluntary attrition. Change in culture or onboarding for acculturation. The discussion you need to make in your CEO.
Millenials
Knowing what you want.
How to plans, the planning?
Know the business. Thinking tools. Management support or support of Business Units. Know your Competitors. You should not be reactive.
Responsive Coaching – Drs. Joyce Carols, International Speaker, Author, TEDx Speaker, Founder & Owner Enjoy EsC and Drive4Diversity.com. Let's burst the bubble – people that are unhappy they will not speak up. Always work with Positive Psychology. It's the heart of the company. She introduced the 4-S Leadership System:
Spark – a good reward system. Not just money but also recognition.
Soul – put that smile. Really ignite that smile and soul.
Structure & Systems – rules & regulation, norms & values clear role.
Self-determination – they will perform. See failure to an opportunity to grow. Ask what did you learn from these mistakes.
Give them a sense of pride. Own responsibility. Self-learning ability. People are valued. Less stress. Or positive stress instead of negative stress. Believe in your dream. Want to grow every single day. Coaching – look as sports perspective. Helps you to perform as the team. Leadership from the heart. Company values and norms. Guidance, structure, plan, spark, and joy.
Responsive Change Management – Mr. Arthur Luis P. Florentin MIR, FPM, Executive Director of Civil Service Commission. Also discussed VUCA Environment. Implementing Change you get resistance. Committing to change the question, Is the organization ready?
Survey for readiness. Contribute what you know.
Capacitating for change – who is responsible?
Contributing & collaborating – mobilization, timeline, monitor. Encouraging the majority. Motivate the majority.
Celebrating & continuing change – behavior that we desire, work towards bigger wins.
Involve them for the change. They are the problem so better involve them.
Orient them to the new management. Find ways to move things all-together.
AQ For Ambiguous Environment – Mr. Jesse Francis Rebustillo, 2016 President of People Management Association of the Philippines (PMAP). Adaptability Quotient (AQ) ability to thrive in an environment of change. The world has evolved. The way we do business has changed. The way we lead and the people we are leading have transformed. Stand as fast. Think and act on it. Leadership is no longer about one man trying to run the show. It's about making other people lead in their own unique style and level of influence. Develop them as persons.
Customer Centric HR – Ms. Claire Boscq-Scott, Director – The Busy Queen Bee Ltd. Global Customer Service Guru. 3 Types of Filipino Employees
The Advocate – very willing to help.
Apathetic – just doing his/her work.
Saboteur – negative employees.
Emotional connection – valued your employees. There's magic happens when you value them. According to a survey, there are 12% leaves the company by money. There are some that they want to be valued. When they feel valued there comes loyalty.
How to handle customers: Know the Manner how to respond. Put ourselves in their shoes. Understand the problem. Resolve the problem.
Emotional Intelligence – Mr. Sameer Somal, CFA, CFP, CAIA, Speaker, Educator and Co-Founder Blue Ocean Global Technology. Had the power to change. The Intangibles of Emotional Intelligence. We cant measure it. We need to have EI. Something that you need to learn. Unique approach – find your strengths. Make sure if you will do something, you should do follow-ups.
How to avoid Training Mistakes – Mr. Bob Hooey, Author, Speaker, Creative Catalyst Ideas at Work! A division of Creativity Corner Inc. Thinking Training will eliminate conflict. You need to talk about the problems. Thinking Training as a program versus a process. Assessment cycle, what can we do together: Teach, Measure Reflect and Plan & Improve.
Positive HR Image and Branding – Ms. Delby Bragais, AICI CIM, President The North Road Image Consultancy & Fashion Group. She called the Personal Brand Makeover as Purple Circle. And here are the 8 steps to achieve it:
Your dream. Why? Start what you want. Exactly what you want.
Build your credibility – it takes 10,000 times to learn or master anything.
Dare to be different – celebrate your individuality. Visibility is key. Opportunity follows visibility.
Design your Image – How to present yourself to the world? Image composed of appearance, behavior, and business etiquettes.
Nurture relationships – build rapport and good relationship with others.
Develop Charisma – it's a talent.
Share your Brand – through social medias like blog , website, social networks etc.
Give back – duplicate it. Or help other people also.
Do's and Don'ts in Outsourcing – Ms. Rhoda Castro Caliwara, President Philippine Association of Legitimate Service Contractors (PALSCON). If anyone is interested to conduct Service Contracting here are the requirements:
Distinct and independent business.
Substantial Capital.
Full control and supervision.
Respects and upholds the rights and welfare of workers.
To end the talk, she said to focus on your core and the rest in the Service Providers.
The Duterte Administration's latest Labor Laws and DOLE Regulations: How Employers and HR can cope and survive – Atty. Josephus B. Jimenez, 2014 President People Management Association of the Phils. (PMAP), Former Undersecretary Department of Labor and Employment (DOLE). Changing role of Government from Government helping business so that they can take care of the workers/people to the Government taking care of the people/workers so they can help business and the Government. The Duterte Labor Policies:
The Presidential veto of the security of the tenure bill – The bill could destroy both business viability and job security.
Policies on the role of the government in Labor Governance – Fair, honest, speedy, expeditious, inexpensive Labor Justice.
Policies on wages, benefits and OSH Standards – Change the Regionalized Wages into Nationalized. Strict enforcement of OHS Standards.
Policies on discipline and dismissals – Due process is essential. Aggravating and mitigating circumstances.
That ends the Day 1 of Philippine HR Summit. I had a very informative and fun day today. I think some of my expectations were answered already. Glad that I attended the Summit and meet other participants wherein we are sharing our opinions and expertise on the topics being discussed.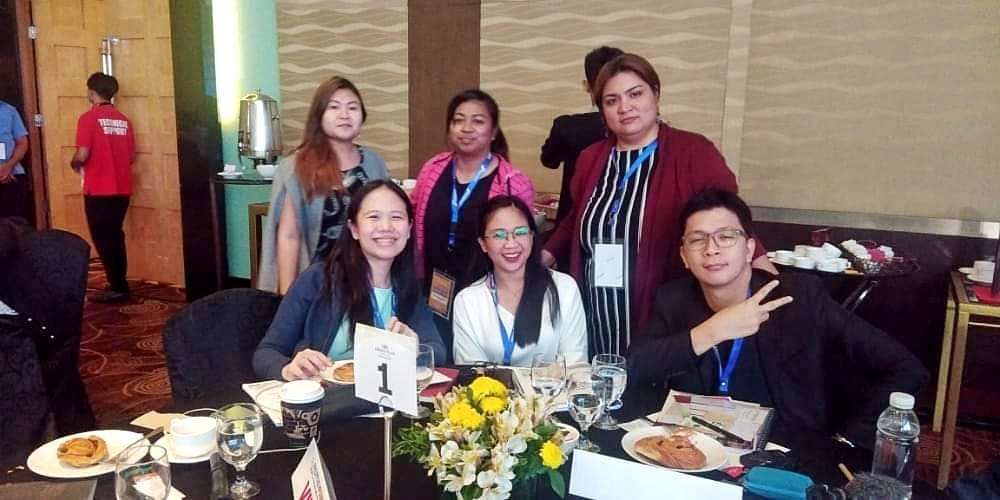 Day 2 – August 9, 2019
Started at 8:30 AM, with the interesting topic about Step-back Leadership – Mr. Lloyd Luna, International Speaker CEO and Founder – Stepback. You step-back and empower your people. We don't get the credit. Be who we are. We don't need recognition. You can have the support because you're not taking the credit that for them. Put the people at the center of leadership. Please remember that: There's No destination w/o goal, No direction w/o Leader and No function w/o people. So everyone is important to the Organization. "The reason you are a Leader is because of the People". So Step-back and trust that they can do it.
What to do next?
Reclaim
Need to build structure, principle, and concept.
The leader still the authority. You serve the people, people serve the leader.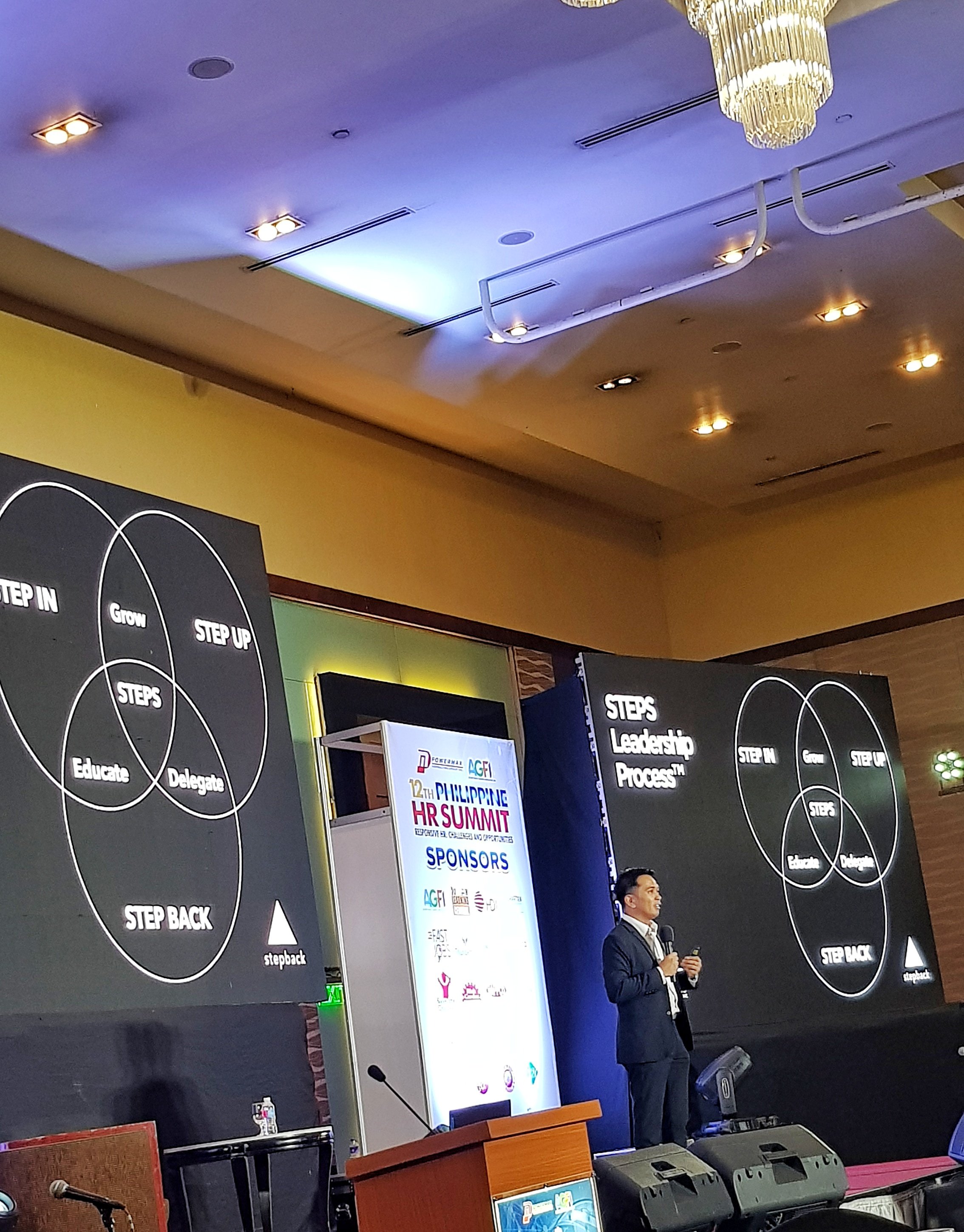 Talent Retention: Upskilling, Reskilling, Retooling – Dr. Virgel C. Binghay, Professor & Director Center for Industry Productivity and Competitiveness School of Labor & Industrial Relations University of the Philippines (U.P. SOLAIR). Challenges in Employee retention, some individuals have a tendency to get bored in a short span of time. Effective employee retention strategies, onboarding, and orientation. Upskilling is defined as "improving the skills of workers, usually through training, so that they will be better at their jobs." What do Employees want? They want Feedback, to Contribute to the company and to have good Benefits.
In addition, if with good onboarding & orientation the more creative, the more welcoming. Mentorship is not only a job. Having a mentor in life is a good suggestion. Change you should have transitioned from A to D. Easily blend with the changes. Communication and Feedback are very important. From top to bottom. And lastly, we should have Celebration it's collective. We have food. Food is one-way of socialization. Lastly, treat your people well. Take care of your people to take care of your business.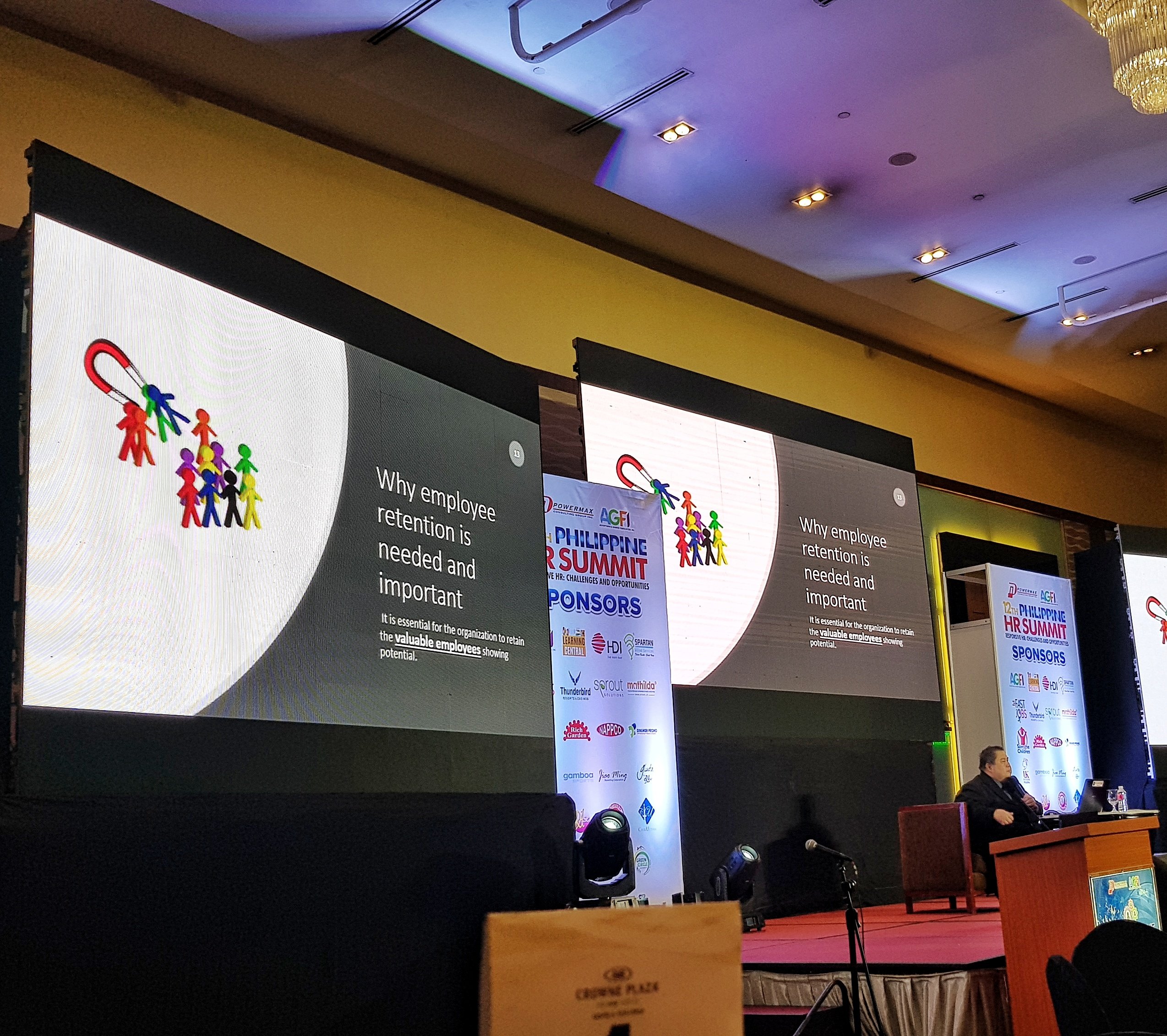 Philippine HR Data problem and how to fix it – Mr. Patrick Gentry, CEO and Co-Founder Sprout Solutions. Doing manually and shift to the machine is the new trend now. We are now on the phase of the Digital revolution. Digitalization in the Philippines is very quickly rising. In HR Processes they are not utilizing the data. We should be investing in cutting-edge technology. The big wave of technology is coming. Solid data. Good Data strategy. Invest in tools.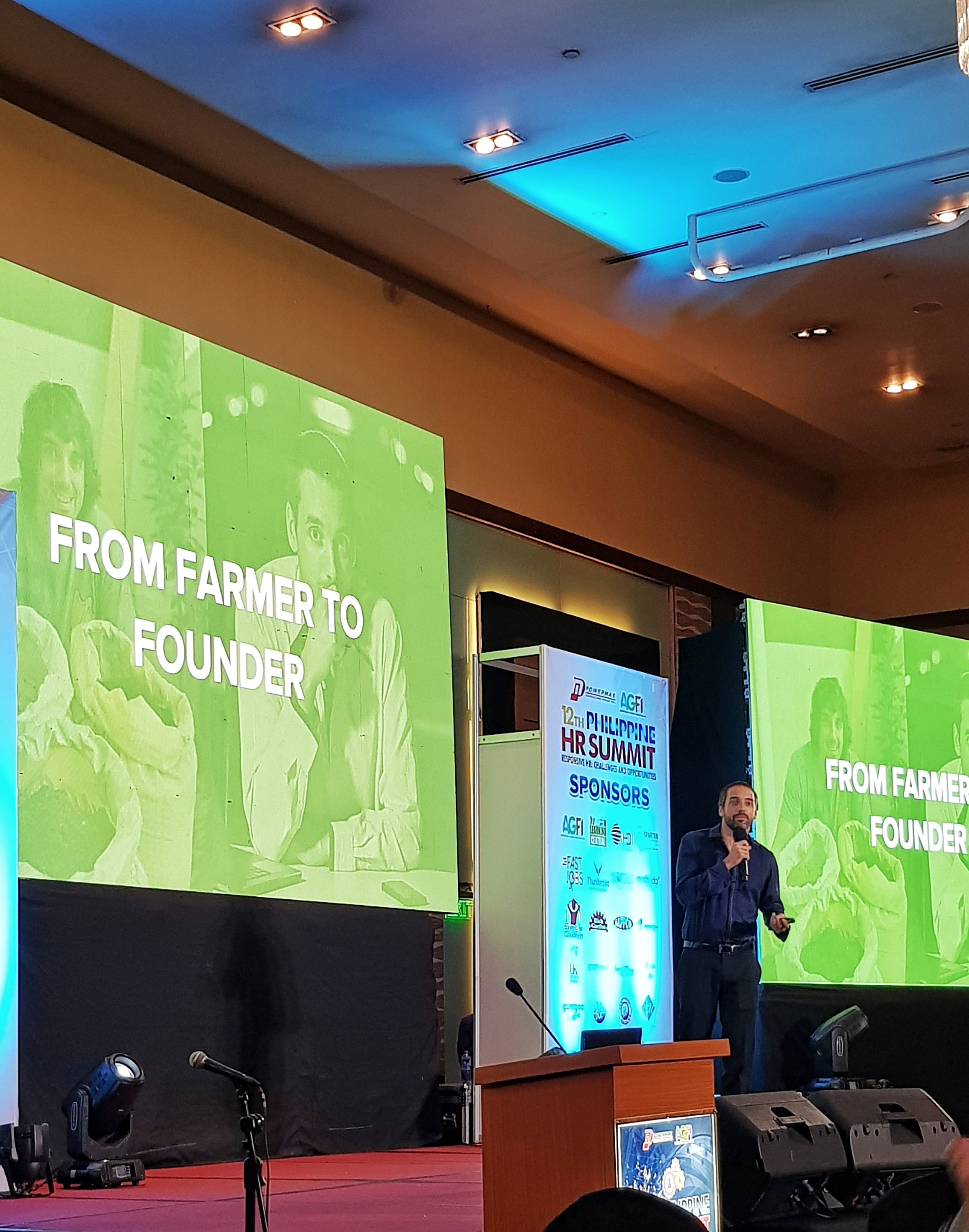 Digitization and New Ways of Doing Work – Mr. Jose Christoper C. Cadua, Vice President & Head of Human Resources & Administration Cignal TV. We need to go back to Basics.
Before jumping into digitization:
1. Innovation – a new idea, for the better. Change is inevitable, so is innovation.
2. Efficiency – lesser cost, quality work and on time. Efficient if accomplishes on time and minimum errors.
3. Engagement – motivation, involvement and emotional commitment. Emotional commitment. It will define the culture of the company.
User-centered – customer is satisfied.
What should be 1st digitization? Very basic what is highly transactional.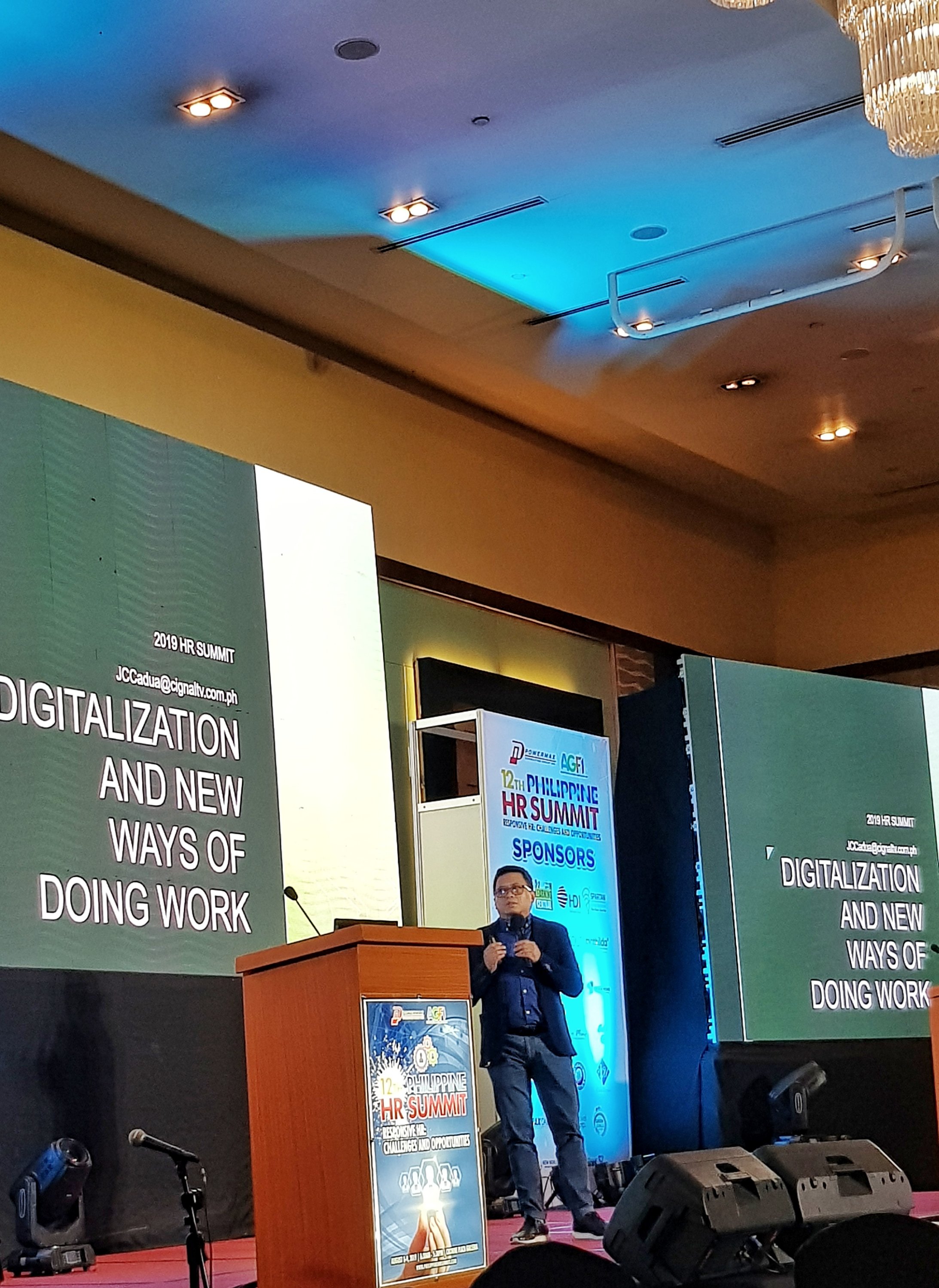 Creative Thinking in the VUCA world – Mr. Phil Smithson, Owner, Design Thinking Consultant, UX Consultant – On-Off Group. Evolution of Creativity:
Blocks
Drawing
Role-Playing
Writing Stories
Science Fair
Powerpoint
Also discussed Vuja de – (antonyms of Deja Vu) it's about the importance of having a beginner's mind – seeing the world with fresh eyes and perspective. It's a time for us to forget what we think we know and push our assumptions aside.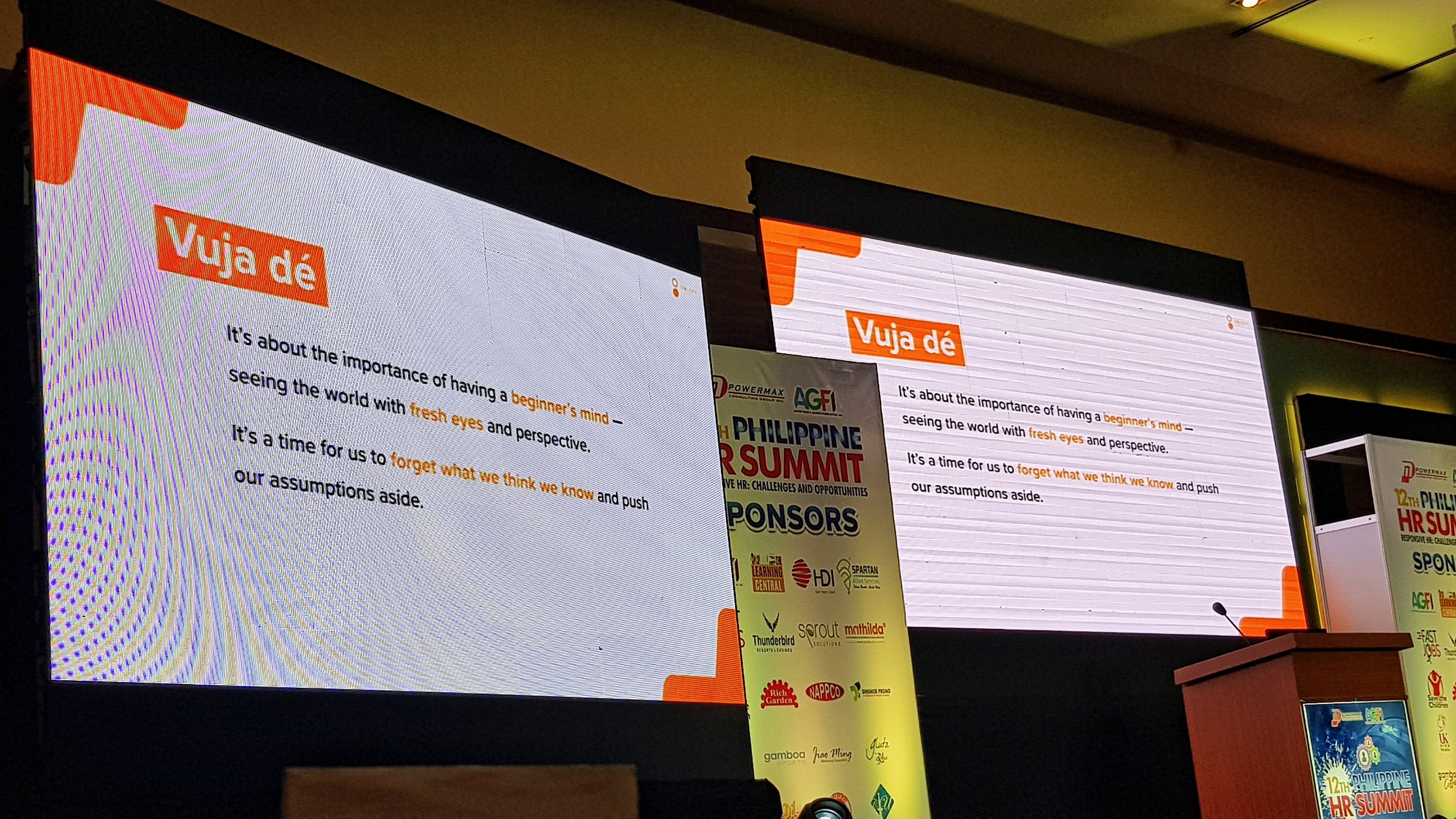 HR as a Strategic Partner in Mounting Organization's Events – Ms. Ellen C. Fullido, Vice President-Human Resources Manila Broadcasting Co. Here's the 4Cs to build a good relationship and add value to the organization.
Construction – you need to tap the right people.
Connection – source, facilitate, endorse and empower. Being an HR you are doing the PR too.
Collaboration – working to complement all the key groups.
Commendation – there's no small or big role. All are important.
A few more takeaway before she ends her talk. We should have a passion for anything we are doing. Keep your eyes on the horizon, constantly scan the environment for new waves. Do your homework (read, analyze, reflect, work on your skills). Ask other experts and take counsel. And remember to have fun and take a break!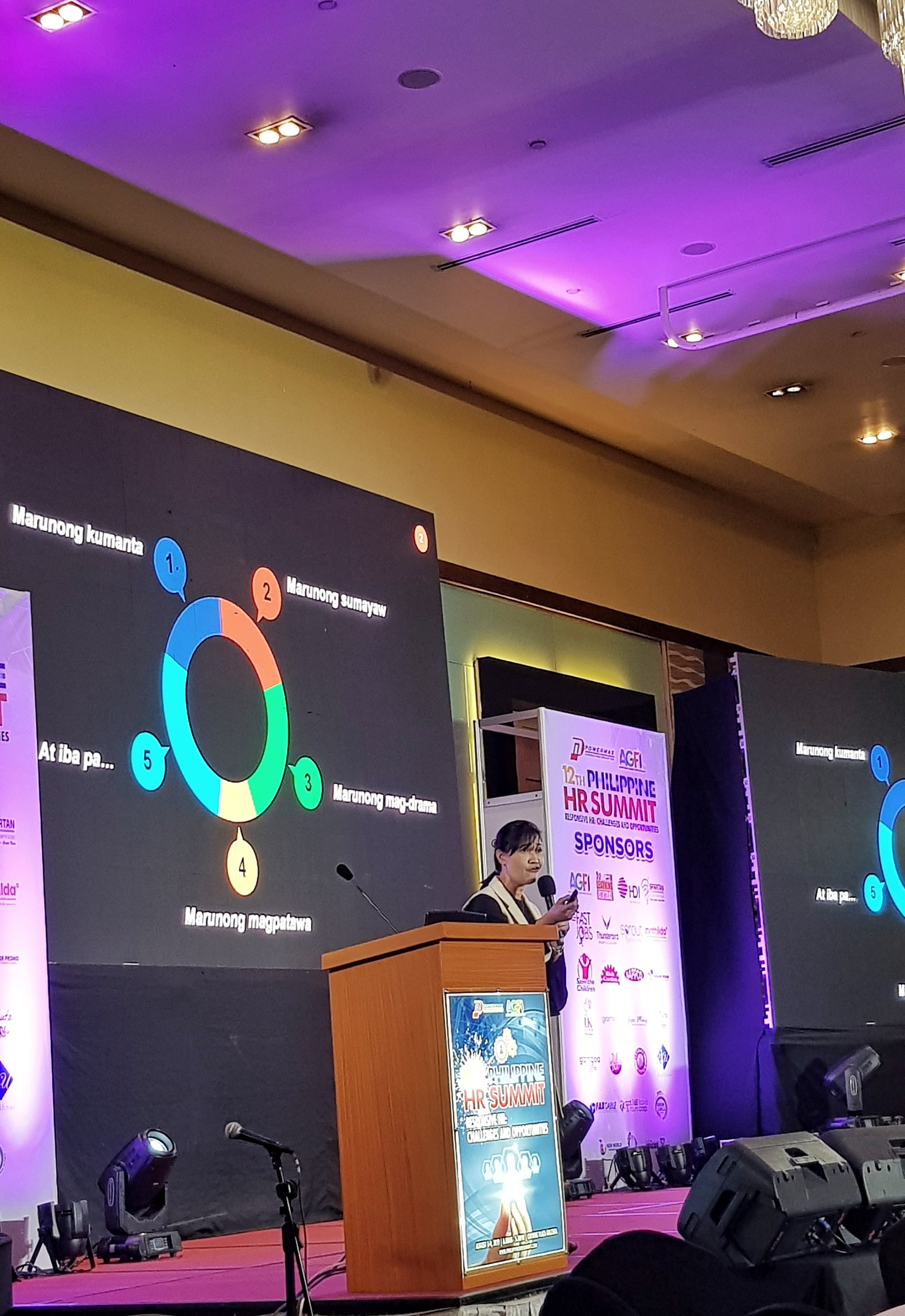 Responsive HR Leadership – Mr. Ericson A. del Castillo, MIR, Country Head, Human Resources General Affairs and Information Technology/System Nissan Philippines, Inc. We would like to know if Leaders are ready now. Through Competence, Commitment and their Character. We should be a Proactive HR Leader.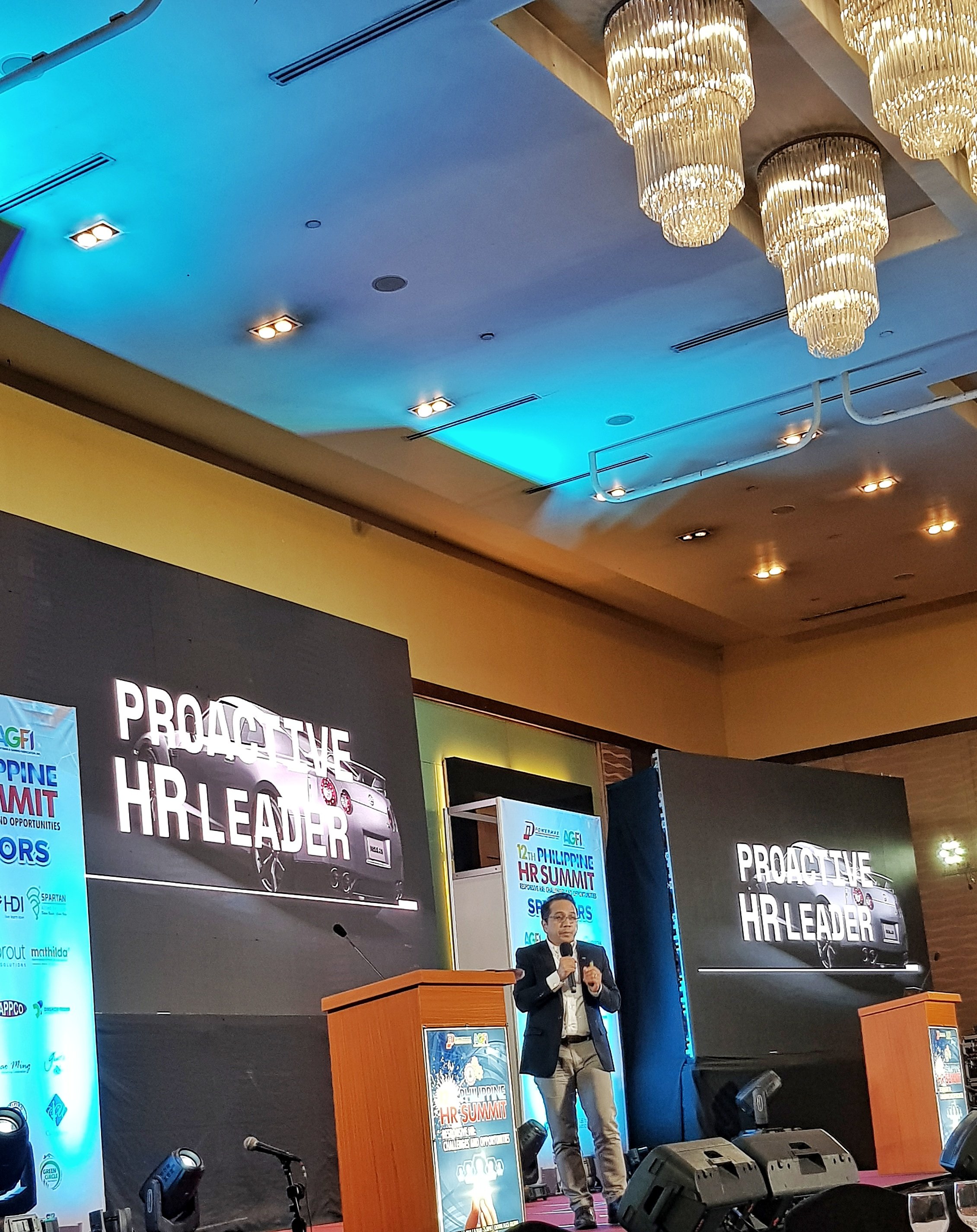 The latest Supreme Court decisions on Labor Cases: How and What to learn from others' mistakes and omissions – Atty. Josephus B. Jimenez, 2014 President People Management Association of the Phils. (PMAP), Former Undersecretary Department of Labor and Employment (DOLE). Atty. Jesse cited some example of Supreme Court decision held:
That failure to Appeal from the Regional Director's Order within 10 days, made the decision final.
Full backwages – salary, benefits, non-monetary. With 6% interest.
OFW – should sign a contract here in the Philippines. Law of the country, where the contract governs.
Invalid Redundancy – for failure to use reasonable criteria in the choice of those affected.
Illegal dismissal, failure to prove the basis for loss of trust and confidence. Don't use the loss of trust if competence issue.

Separation pay in lieu of reinstatement

Illegal dismissal, failure to prove true redundancy, violation of the Employees' Security of Tenure.
Illegal dismissal, difference between optional and compulsory retirement, company guilty of ULP.
Compulsary retirement before age 65. The option belongs to the employee. More beneficial will apply.
10 days – calendar days are the processing. Improper documentation the court will not accept w/o 3 P's: Pirma, petsa, pahina. As HR Practitioners you should have this 7 books of labor codes:
Book 1 – Pre-employment
Book 2 – Human Resources Development Program
Book 3 – Conditions of Employment
Book 4 – Health, Safety and Social Welfare
Book 5 – Labor Relations
Book 6 – Post Employment
Book 7 – Transitory Final Provisions
Atty. Jesse ended his talk by saying "You are in-charge and empower."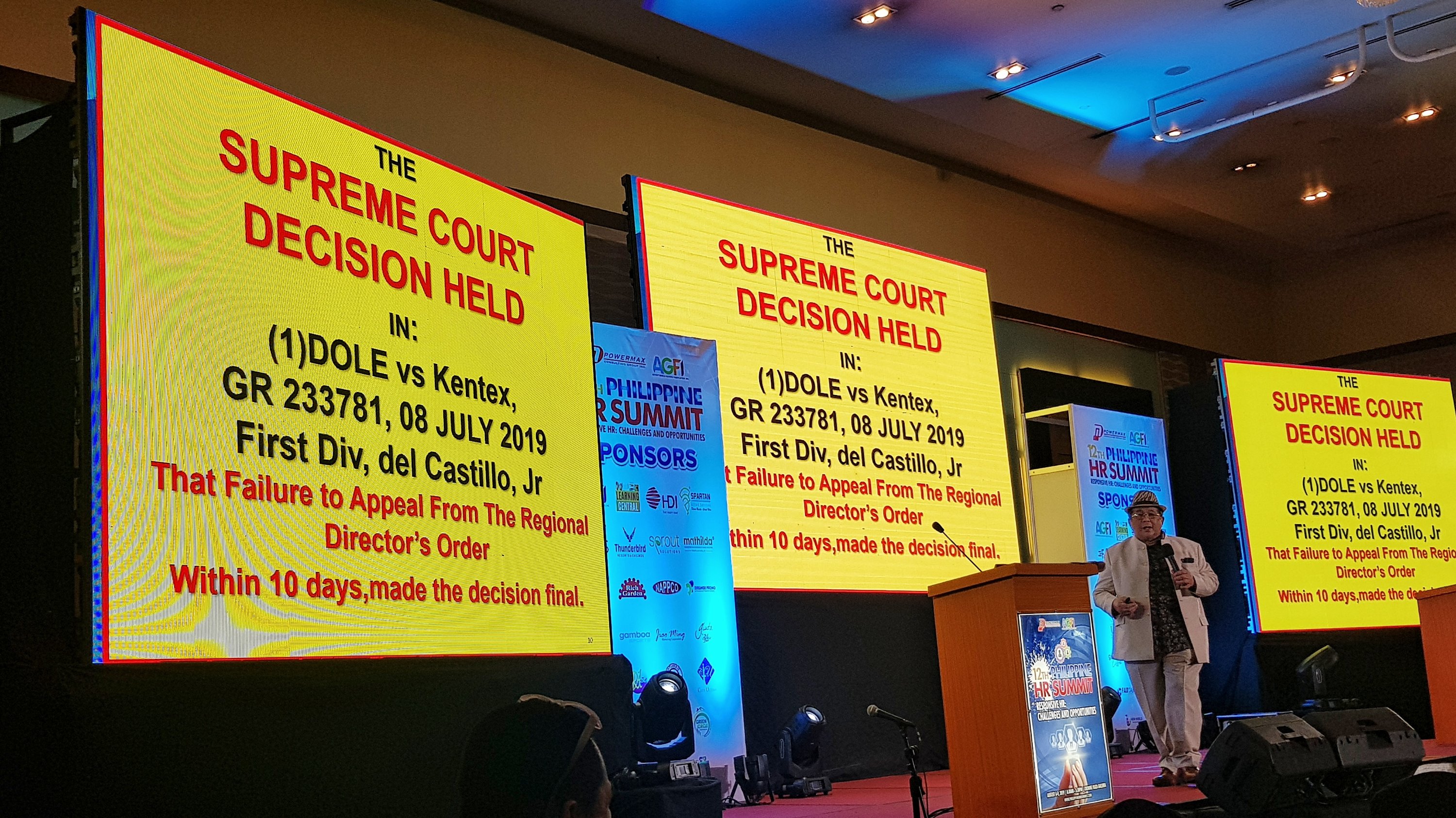 Responsive Employee Engagement – Ms. Rita Bantigue, Head, Learning and Development MERALCO. Engagement what do we need to measure? What drives the motivation?
Drive to Acquire – sharply differentiate good performers from average and poor performers.
Drive to Bond – foster mutual reliance and friendship among co-workers.

Drive to Comprehend – design jobs that have distinct and important roles in the organization.

Drive to Defend – increase the transparency of all processes.
Tie rewards to performance. Policies should be well explained.
Here are the 3 Types of Employees:
1. Engaged with passion, with a profound connection to the company.
2. Not-engaged they are sleepwalking through their workday, putting time but not energy or passion into their work.
3. Actively disengaged employees are not unhappy at work; they are busy acting out their unhappiness.
2-way feedback. Performance. Career growth. Leads to the culture of engagement. Very important that our recommendations should be with data. Analyzing. Use technology. Apply for Training and Benefits. Faster when you used technology. Selective engagements. Identify critical talents. Look for turn over rate. Is there really need for engagement rate. Demographics possible age, gender. Doing Performance planning system. Should be implemented. Good compliance will drive good engagements.
Training & Development 70-20-10 Learning Model
70% Experience
20% Coaching
10% Training
Succession planning program – building talents from within. Talents – high performing individual, talent nomination, development. Vetting. Readiness level of the successor. Individual development plan form Internal pool of Coaches. We monitor the execution. You should log. Very important to log.
Managing Change in the workplace
Role in people lives – impact on people.
Resisting to change.
Different Levels of readiness.
Can handle only so much change. Minimum gap is 6 mos. To embrace the change.
You need to provide communication, training. You have to detect the cause of resistance. Managing the change: Ask questions, give suggestions. Every change you need to communicate. Before and after. You need to supply the details.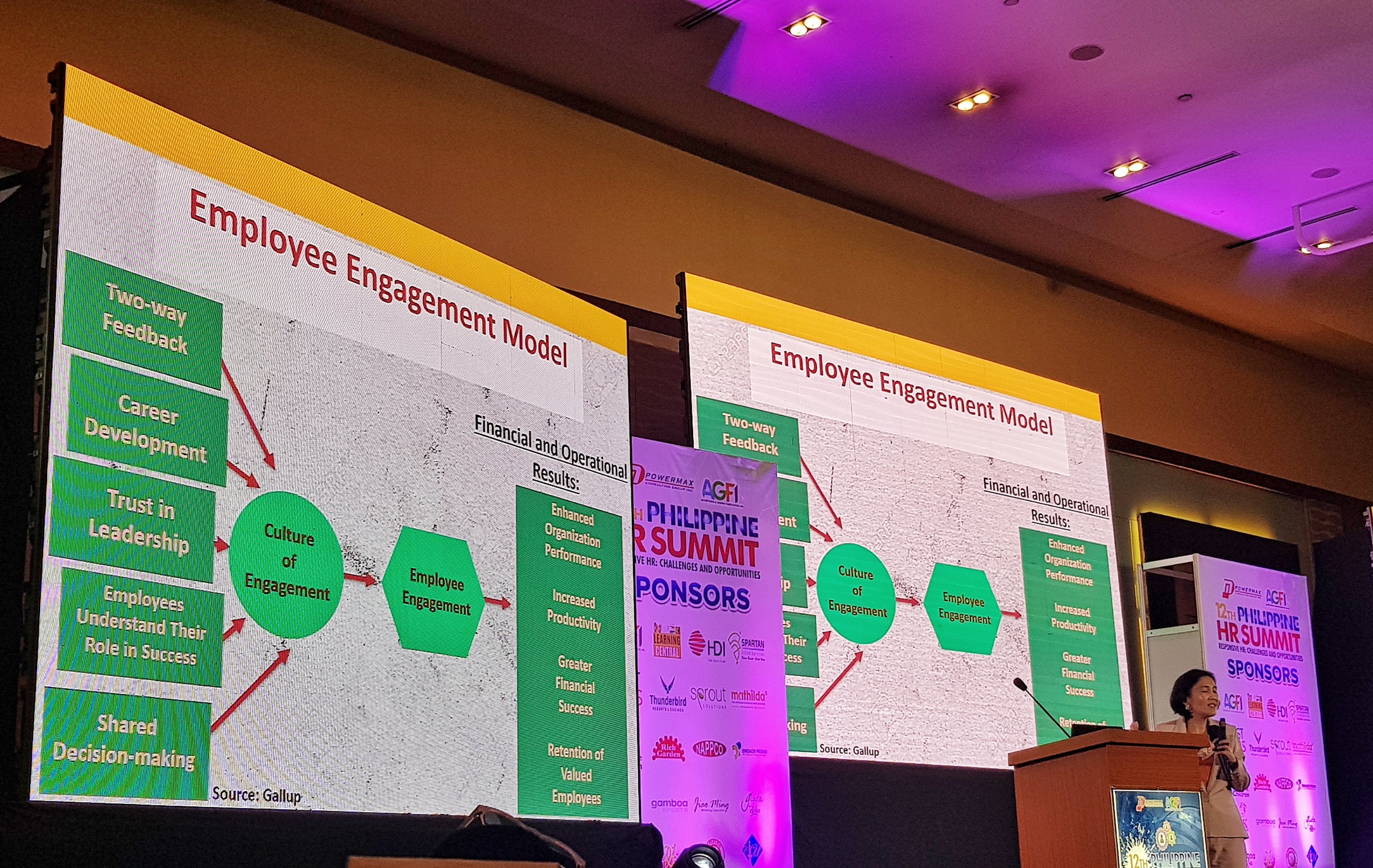 Panel Session: Young Leaders Maturity – Facilitator, Mr. Barbie Atienza, Head of External Affairs Manila Bulletin Publishing Corporation.
First speaker for the Panel session, Ms. Haidee Enriquez, Chief HR Officer Sitel PHANZ. Discussed about the culture of Sitel employees. And identify the Top 3 reasons why the company survived: Good Attrition, Recruitment and Leadership maturity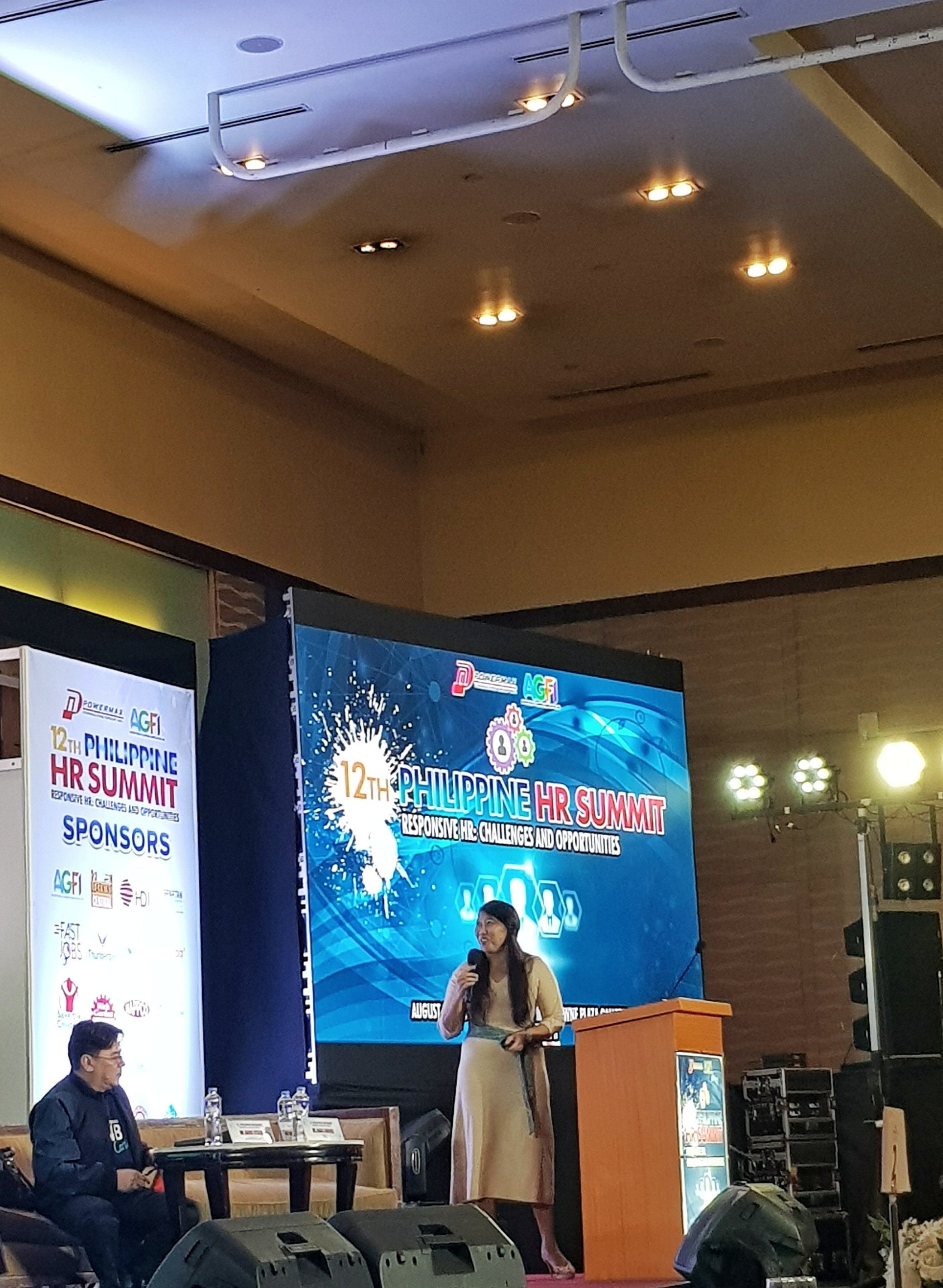 Mr. Schubert Caesar C. Austero, Senior Vice President Head, Human Resource Group Philippine National Bank. Millennials are narcissistic, materialistic. They think differently. Think like a smart worker. They are really empowered. They can build the future.
Is there a program to manage the Millenials?
Mentorship is a powerful program. Able to work with someone with more life experiences.
Agnostic, geographical area. Not look at the perspective of promotion. Look in-depth.
Create a culture to make a difference. Making easy for people to do what they signed up to do.
Aligned what is your purpose.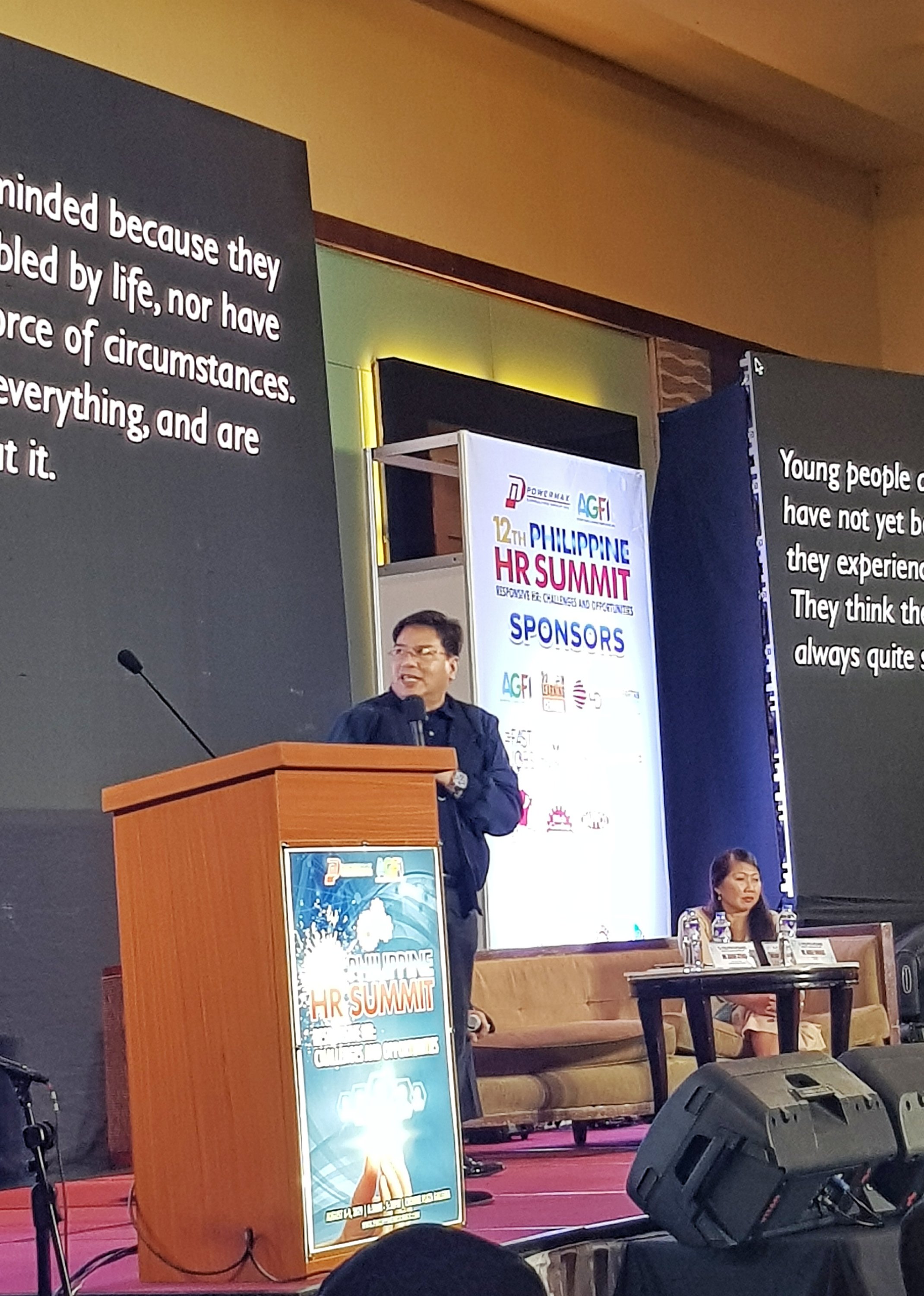 Responsive HR: Pivot or Perish – Mr. Nonong Noriega, Head of People and Transformation Capability Development PLDT – Smart. The importance of Middle Management. Listen in to the inputs of the ground persons. Millenials their heroes are their parents. Loyal to their experience. They want to travel a lot.
Z digital innates. Generational framework. And we need to follow. Define workforce DNA. Needs to work smarter. Scan your workforce. Call them associates. Show them the way, be available if they need help. We need to have the humility to listen to learn.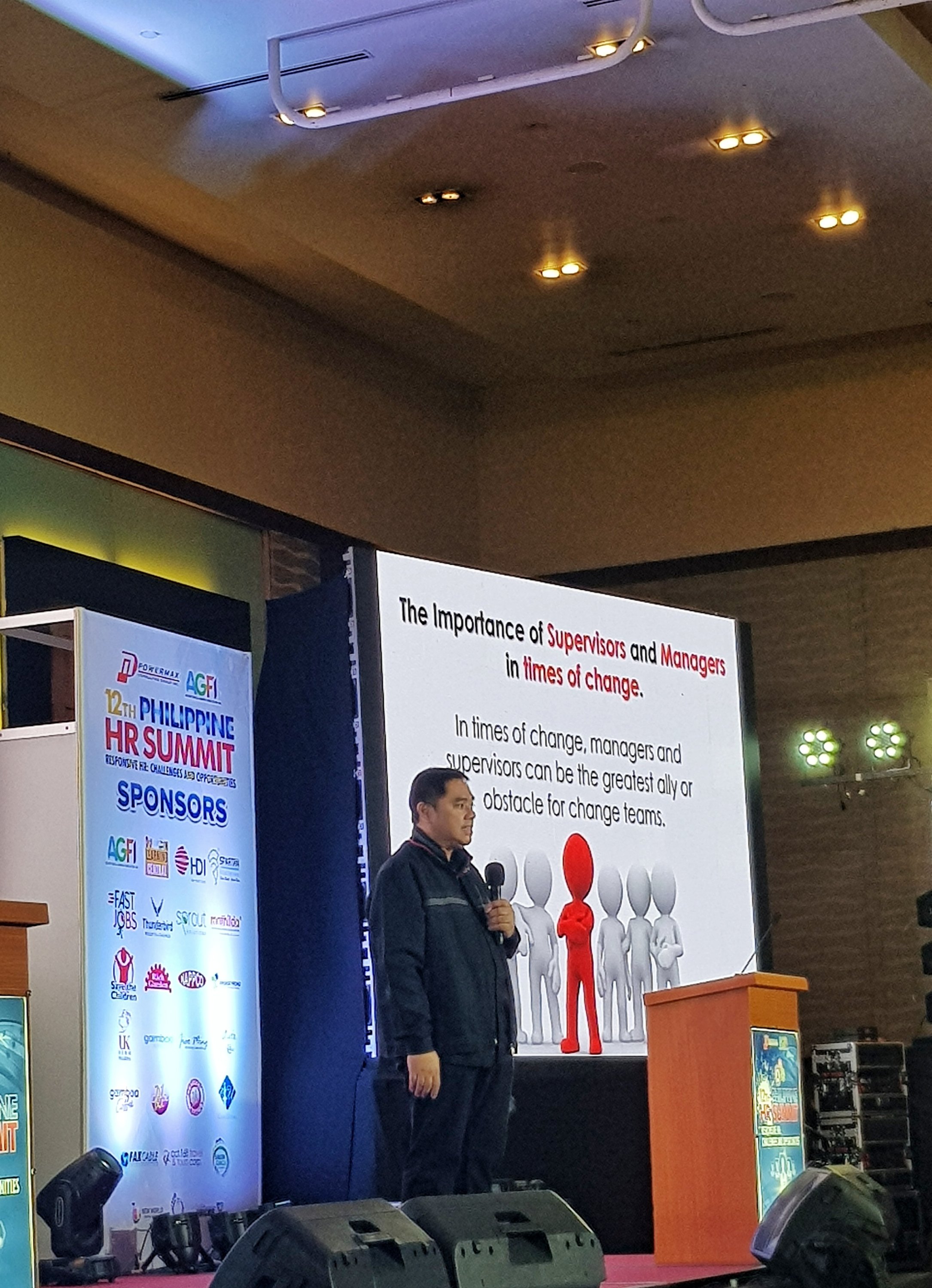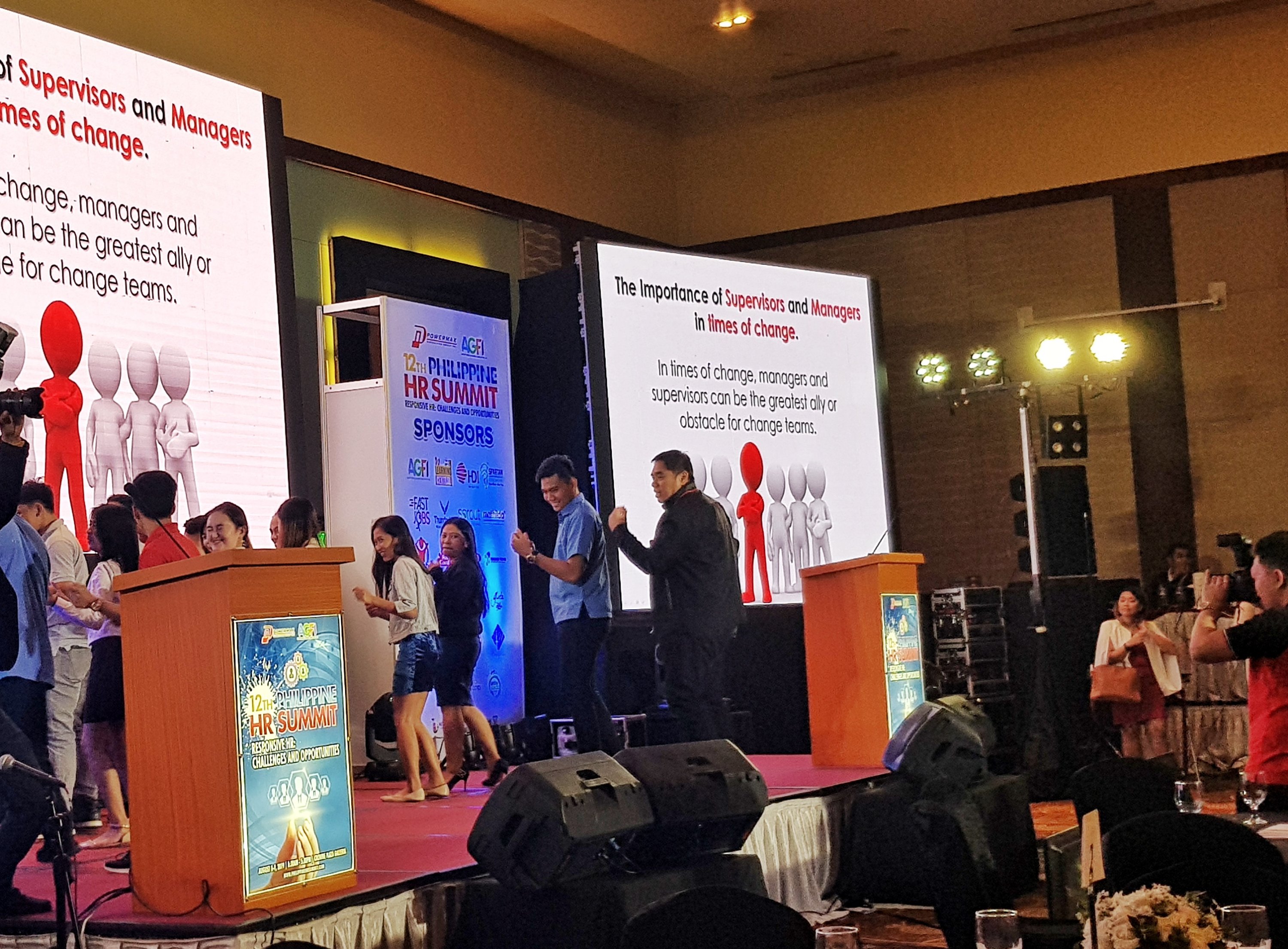 After 2 days of attending the HR Summit, here are my insights:
As the Head of HR, the change should start with me before implementing changes to my department and to the company.
As HR, we should no longer do the transactional HR. We should innovate and enhance our creativity. There's no more box so we need to go beyond on what we are doing.
Being an HR is not just a job its passion and purpose. You should identify what is your passion and purpose. HR should have "Malasakit" with the company.
You need to convince the Company, the Top Management that HR is the soul of the company. HR should be credible and you should be influencing them on different aspects of the business for you to implement all the changes that you want to do. I am lucky enough that my boss is very supportive of all the changes that I am implementing with the company.
HR is like Branding. You need to present yourself to the world. Appearance, behavior and business etiquettes are very important. A Company should have a good onboarding process because it's like your appearance. You will be judged first by your appearance and will follow by your attitude and your etiquettes. That's why we have Training and other fun activities.
As Head of HR, I am trying to empower my people. I am entrusting projects to them and let them do what they want to do. I am just giving directions and let them do the rest. If they failed to a certain project, we processed it and asked them what should we have done to prevent it from happening and action plans for that.
In terms of technology, HR should already not doing manually all their transaction, we should invest in tools. And this is what I am trying to do right now. We will be starting to have our Payroll system to extreme line the processes, be more efficient and fewer errors.
Documentation is very important if there are any Legal cases that the company is facing. 3Ps that are very vital in HR: Pirma (Signature), Petsa (Date) and Pahina (Pages).
Managing Millenials right now is a big problem in most companies. There's no method or formula, we should let them be empowered. You should always include them in the process. Mentorship can also help. It's important that everyone has someone they will consider as mentor either on personal life or work-related.
Being a Leader is not an easy job. It takes a lot of competence, commitment, and character. It's a two-way process, you should serve them and they will serve you in return. You should have the humility to listen and also to learn new things to them. I am happy and proud of being an HR practitioner. Indeed being an HR are like Unofficial Psychologist, Event Planner, Peacemaker, Lawyer, and Teacher but still, we love what we are doing and will continue to serve other people.