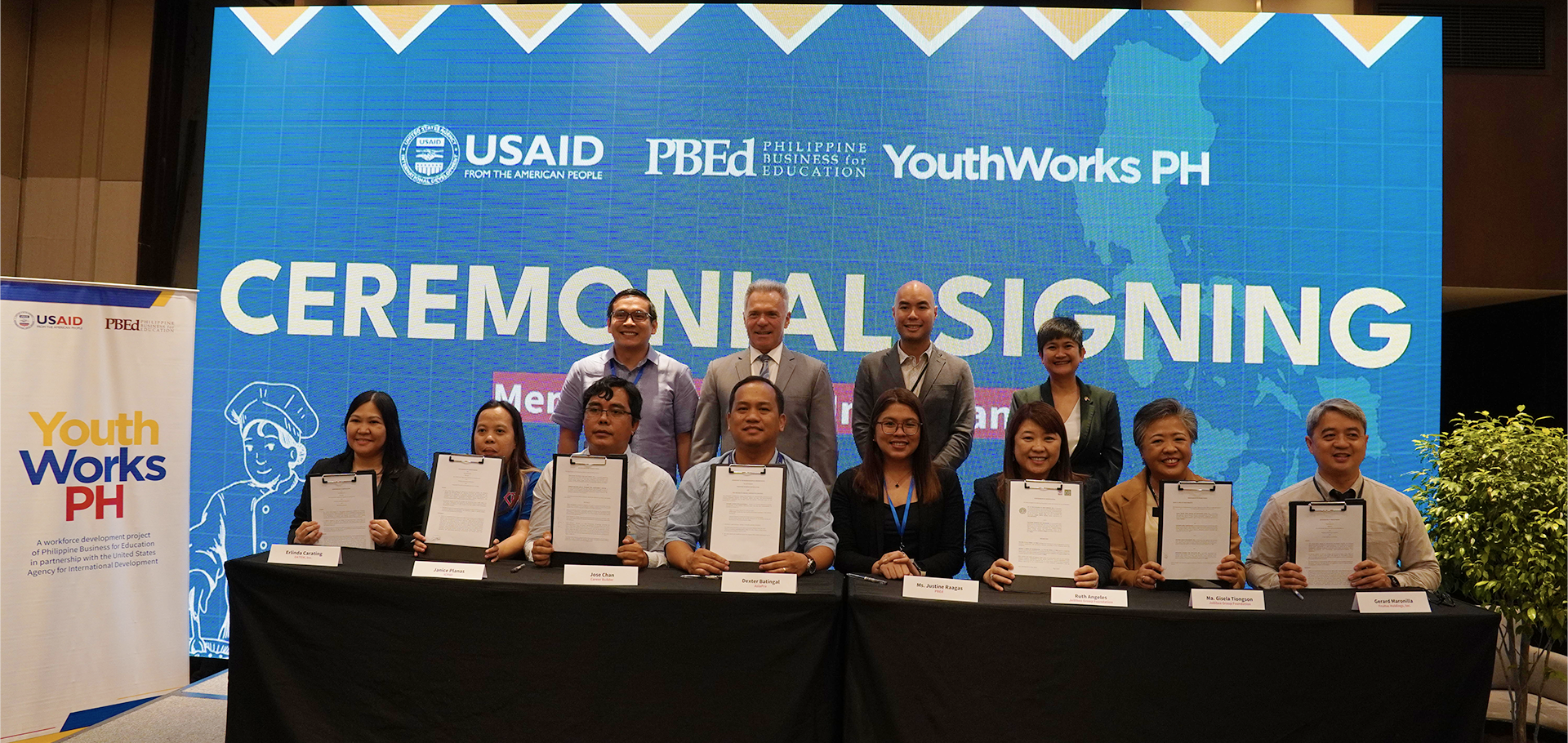 Partnership for Youth Employment. A Memorandum of Understanding (MOU) was signed between Philippine Business for Education (PBEd), Jollibee Group Foundation (JGF), Jollibee Group, and Career Builder Skills Training and Assessment Center for the YouthWorks PH project, which seeks to provide employment opportunities to out-of-school youth. Signing for JGF is Gisela Tiongson, JGF President (seated, 2nd from R), while Ruth Angeles, Vice President and HR Head for Philippines (seated, 3rd from R) signed for the Jollibee Group. With them in photo are Jose Chan, Founder/Chair, Career Builder (seated, 3rd from L), Justine Raagas, PBEd Executive Director (seated, 4th from R), Thomas LeBlanc, USAID Office of the Education Director (standing, second from L), Rhea Peñaflor, YouthWorks PH Chief of Party (standing, first from R), as well as other YouthWorks PH partners.
MANILA, Philippines. – Unemployment remains an issue to many underprivileged Filipino youth, especially during a challenging economic climate. Most of them have lost their jobs or failed to secure stable jobs due to the impacts of the pandemic. According to the Philippine Statistics Authority (PSA), youth unemployment rate in the Philippines as of May 2023 is at 10.6%. 
To help address youth unemployment, the Jollibee Group, and its social development arm Jollibee Group Foundation (JGF) recently partnered with the Philippine Business for Education (PBEd) and Career Builder Skills Training and Assessment Center on the YouthWorks PH project.
Launched in 2018, YouthWorks PH is a private sector-led initiative which aims to increase access of unemployed and out-of-school Filipino youth to quality training and employment opportunities. This project is implemented by PBEd in partnership with the United States Agency for International Development (USAID).
PBEd is the business community's response to the need for sustained and strategic education reform in the Philippines. Career Builder Skills Training and Assessment Center is a TESDA accredited skills training and assessment center established in 2020 to help provide employment opportunities to unemployed Filipinos through skills training. 
For its part, the Jollibee Group will co-develop the technical-vocational school-based curriculum with Career Builders, in coordination with Technical Education and Skills Development Authority (TESDA). JGF will also provide scholarship assistance to youth scholars and provide them with practicum training in select JFC stores. A pilot training program will be done this year to optimize the design and mechanics that can be used to scale to more youth trainees across the country beginning 2024. 
"We are happy to partner with PBEd, USAID, TESDA, and Career Builder on providing the marginalized youth sector with the opportunity to empower themselves with technical and leadership skills. This initiative will enable them not only to find jobs, but also to unlock their potential so they can achieve a better life for themselves and their families," said Jollibee Group Foundation President Gisela Tiongson.
Sustained program for youth employment
This is not the first time JGF has undertaken an initiative for the marginalized youth sector. In 2005, JGF launched the Access, Curriculum, and Employability or ACE Scholarship Program, which provides two types of educational support to underprivileged youth: college scholarships for degrees in Hotel and Restaurant Management or Business Management, and technical skills training scholarships, in partnership with Don Bosco Technical College. 
In 2018, JGF partnered with the Anihan Technical School for the development of the Quick Service Restaurant Operations course, which includes both in-school and in-store training for scholars, improving not only their skills set, but also their employability in the food service industry.
Since the ACE Scholarship Program started in 2004, JGF has given scholarships to 2,397 students, which includes 1,117 students for agriculture and 139 for technical-vocational skills training. 
"We continue to work towards reducing barriers to education for the marginalized Filipino youth. With new partners like PBEd and USAID, we are strengthening our ACE Scholarship Program even further and helping provide more young people with better chances at succeeding in life and improving their quality of life," said Tiongson. 
# # #
About Jollibee Group 
Jollibee Foods Corporation (JFC, also known as Jollibee Group) is one of the fastest-growing restaurant companies in the world. Its mission is to serve great-tasting food and bring the joy of eating to everyone through its 18 brands with over 6,500 stores across 34 countries including the Philippines, United States, Canada, the People's Republic of China, United Kingdom, Vietnam, United Arab Emirates, and Australia. 
The Jollibee Group has eight wholly owned brands (Jollibee, Chowking, Greenwich, Red Ribbon, Mang Inasal, Yonghe King, Hong Zhuang Yuan, Smashburger); four franchised brands (Burger King, Panda Express, and Yoshinoya in the Philippines, and Tim Ho Wan in certain territories in China); 80% ownership of The Coffee Bean and Tea Leaf; 60% ownership in the SuperFoods Group that owns Highlands Coffee; and 51% ownership of Milksha, a popular Taiwanese bubble tea brand. JFC also has a business venture with award-winning Chef Rick Bayless for Tortazo, a Mexican fast-casual restaurant business in the United States.
The Jollibee Group, through its subsidiary Jollibee Worldwide Pte. Ltd. (JWPL) owns 90% participating interest in Titan Dining LP, a private equity fund that owns the Tim Ho Wan brand. The Jollibee Group has a joint venture with the THW Group to open and operate THW restaurants in Mainland China. Recently, the Jollibee Group has signed an agreement to establish a joint venture company that will own and operate Tiong Bahru Bakery and Common Man Coffee Roasters in the Philippines. 
The Jollibee Group has launched its global sustainability agenda dubbed Joy for Tomorrow, which aims to strengthen the company's commitment to sustainable business practices. The agenda centers on the key pillars of Food, People, and Planet, and consists of 10 focus areas namely: food safety, food quality, nutrition & transparency, employee welfare, farmers livelihood, community support, good governance, packaging & recycling, waste reduction, and energy & water efficiency. Each focus area sets goals and initiatives that contribute and align with the United Nations Sustainable Development Goals (UN SDGs).
The Jollibee Group was named the Philippines' most admired company by the Asian Wall Street Journal for ten years. It was also honored as one of Asia's Fab 50 Companies and among the World's Best Employers and World's Top Female-Friendly Companies by Forbes. The company is also a two-time recipient of Gallup's Exceptional Workplace Award, making it the only Philippine-based company to receive the distinction. 
To learn more about Jollibee Group, visit www.jollibeegroup.com